Hopeanuoli 1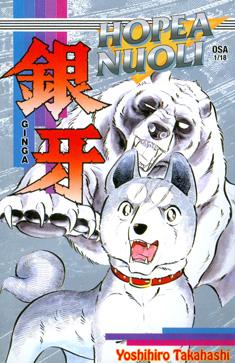 Series: Hopeanuoli (Ginga Nagareboshi Gin)
Artist, author: Yoshihiro Takahashi
Language: Finnish
Released in (this edition): 2010
Gin is an Akita-inu born with tiger stripes, which means his destiny is to become a bearhound. To avenge his father, it becomes Gin's goal to defeat the horrific bear by the name Akakabuto: a dangerous, aggressive bear who doesn't hibernate and has grown to an abnormal size.
Ginga Nagareboshi Gin, localised as Hopeanuoli in Finland, is an absolute cult classic here in Finland. Think of Warrior Cats but for dog people. It first became popular when the anime was dubbed and released on VHS in the late 1980s. While it's infamous for it's clumsy dub (not very unusual for a cartoon at the time), it was also genuinely liked for the story. It's a bit of a mystery why it became so popular, but I suppose it has something to do with Finns' love for bearhounds and hunting. When the manga was translated and published in 2010, it became an instant hit (especially with the "weird animal loving kids" demographic). The series' sequels (which revolve around the same bloodline, a bit like JoJo's, lol) have also been pretty popular, along with Yoshihiro Takahashi's other dog related mangas. Finland also has quite active Ginga fan groups and various fan activities.
I had a very strong Ginga phase around 2011 or so. I still the love the original Ginga Nagareboshi Gin, but I'm not as well versed in the sequels. (I've read the beginning of the direct sequel, Ginga Densetsu Weed, but other than that I'm very out of the loop, lol!) I definitely recommend this series, especially if you happen to gravitate towards animal stories.